Home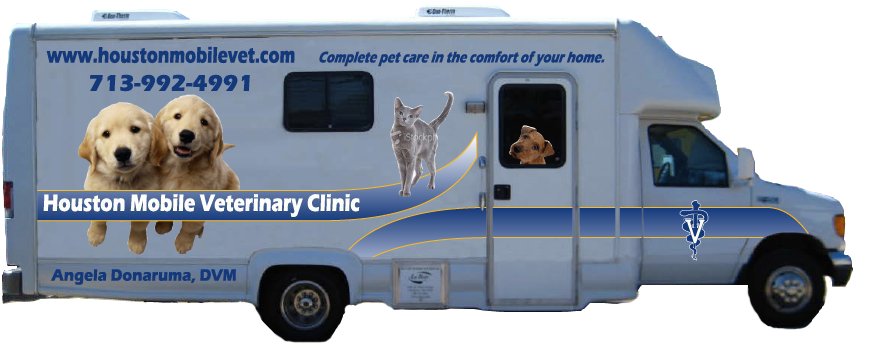 We bring the entire vet clinic to your front door!!
Why use Houston Mobile Vet Clinic?
Reduces stress/trauma for your pet.
No waiting in a less-than comfortable waiting room.
No exposure to other sick animals.
No time lost driving to a vet clinic.
Full attention devoted to you and your pet.
Our mission is to bring the same quality of care, state of the art equipment, and level of services found at the local vet clinic right to your front door!
The Houston Mobile Vet truck is a 26 foot, fully equipped clinic. Inside the custom-made vet clinic there is an area for examinations, a wet table for dental and minor procedures and a surgery room. There is also a full laboratory, digital x-ray system and a recovery area for pets after surgery. It has all of the attributes of a modern veterinary practice only this practice comes to your home!!
State of the art laser therapy is now available to treat pain in your pet! Click on our services offered tab for more info!
Call today for an appointment: 713-909-5199
If you have an emergency after hours please call:
Sugar Land Veterinary Emergency
281-491-7800 http://www.slvetspecialists.com
or
V.E.R.G.I 24 Hr. Veterinary Emergency
713-932-6776 http://www.vergi247.com/
or
610 Animal Emergency
713-693-1100 http://www.animalemergencyhospital.com/index2.html
or
Westbury Animal Hospital
713-723-3666 http://westburyvets.com/
For a list of services provided, including in-home euthanasia for your pet, click on the "services" tab.